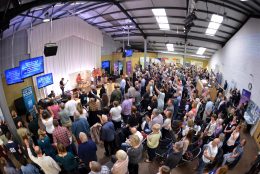 The annual Jubilee+ conference is one of the first dates in my diary each year. It combines helpful impartation of knowledge with worship, vision, networking and a time of prayer. This year's conference in Cambridge lived up to my expectations.
During the week running up to the conference, one of Natalie Williams' friends at King's Church in Hastings had said to her that she felt that Jubilee+ has been like a deep-sea oil rig, pushing deeper and deeper, sometimes through rocks that were hard to budge, but that this year's conference would be as if we had finally struck oil. (Natalie is one of the core team of Jubilee+.)
That accurately reflected the day. During the conference, delegates were coming out of main sessions and seminars saying how profound they were finding them.Others reported key networking opportunities for them, while for others they felt from the very first session they were gaining clarity on what their next step should be. Opening this session Martin Charlesworth shared stories of ministries and fruit that had been directly attributable to some previous conferences – a meeting between two people, teaching that had been given and so on. This would be true of a ministry I, myself, am now involved with.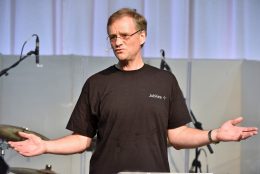 Feedback from the day was hugely encouraging. During two days of prayer in Sidcup which followed shortly after the conference, several church leaders mentioned that people had returned to their churches raving about the conference. One church leader said that another of his leaders had come back saying it was one of the best days of his life!
A call to church leaders
These conferences are always apostolically endorsed and supported. Indeed, Mike Betts (Relational Mission), in whose apostolic region this year's conference was held, spoke about Onesimus, sharing how he had been turned from waywardness to being empowered by the gospel manifest in his life. It was a powerful talk!
Accordingly, I would like to take this opportunity to encourage church leaders to attend this conference in 2018 (date below). In order to support ministries in your church it is important to be exposed to the climate and culture surrounding those who are poor or in need, and to learn about how others are being affected by the pressures of today's political and social climate. Both the main sessions and the focussed seminars will really help you.
Recordings of sessions
The main sessions and seminars from Churches that Change Communities 2017 are available here.
Next Conference
In 2018 Churches that Change Communities will be held in London for the first time, Everyday Church in Wimbledon. I already have the date in my diary – Saturday 10 November. I hope you will join me. You will not be disappointed! If you sign up for the enewsletter (bottom left of this homepage) you'll hear when bookings open.
Be there!

This article originally appeared on: Feeding 5,000 is no picnic… by Nigel Ring accessed on 20/11/2017 20/11/2017